You will find here a list of some presentations made by Fabrício Laguna speaking at international events.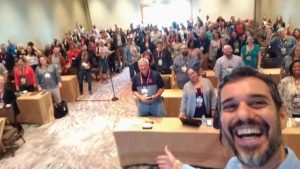 Hire the Brazilian BA to speak at your event and offer a unique experience to your audience. Good quality content in an enjoyable and entertaining approach with Brazilian passion.
Business Analysis is not a role. It is a mindset.
Became a business-driven professional
PRESENTATION
During this presentation, the presenter uses interactive video and live music to engage the audience and illustrate how the BA mindset must be available to any professional.
Of course, there is the role of the business analyst and its contribution to improving organizations' business results can be extreme. But adopting a role is just one of the possible strategies for developing business analysis skills in an organization. The "business analyst" is not important. The "Business Analysis" is what matters.
When the business analysis is presented as the exclusive practice of a specific role, its scope is reduced and its value is questionable.
Business analysis is in everything we do. The constant practice of the concepts and techniques disseminated by IIBA in the BABOK Guide changes the way of thinking and seeing the world. Any professional can benefit from this. Regardless of their position or function.
Come and learn stories of business analysis and become a diffuser of this mentality.
Learning objectives
The true value of business analysis.
Different approaches to practicing BA.
How to develop a business analysis mindset.
Keywords
#Mindset #BusinessAnalysis #Career #ProfessionalTrends #BAMindset
Additional material here.
"Very lively and musical!!!"

"I laughed, I sang, I loved the session."

"Entertaining and great thought put into what a mindset is and what the other areas are that touch business (project management, agile)."

"Excellent presenter, presentation, and topic. Loved It!"

"The energy was great and I really like the different approach to presenting. Seem to really care about the topic."

"Fabricio represents the enthusiasm and excitement you should have the entire conference! He's thoughtful and funny. Loved it – loved when he was in other meetings. He should be the keynote next time."

"One of the best sessions in the conference."
Enabling change with OUTCOMES definition
Create a Business Case using a collaborative and agile approach.
HALF-DAY WORKSHOP
A practical workshop with simple techniques to focus on real business needs and stimulate the creativity of the development team.
A golden rule: "Understand the real need before proposing a solution".
Although everyone recognizes this rule, a lot of enterprises still start with a specific defined solution for an unknown need. There is a misunderstanding of the value of the BA, seen as a contract generator that must define all the OUTPUTS to be delivered by a development team. In the end, dissatisfied customers complain: "This solution does not solve my need". The development team is unhappy: "Need? What need? We did exactly what was asked." Result: dissatisfied customers and developers.
This situation must change.
An executive view of any enterprise must make the current situation clear and describe the OUTCOMES expected. Detailed scope, budgets, and plans are only made later, incrementally and with the collaboration and creativity of the development team who must take responsibility for reaching OUTCOMEs instead of OUTPUTs.
Learning objectives
How to represent requirements in the form of OUTCOMEs instead of OUTPUTs
Techniques to understand and represent the current situation and the desired situation in a collaborative way
How to sell a change to the executive team
Keywords
#BusinessCase #BestPractices #Outcomes #StrategyAnalysis #BusinessAnalysis #Techniques #Workshop
"I loved the fresh spin that Fabricio put on the topic. outcomes! not outputs."

"I love the passion in the room! Fabricio is always entertaining and provides actual practices that can be utilized right away."

"I appreciated the interactive aspect of this session."

"The class was engaging and I appreciate how the instructor approached the tutorial with levity."

"Fun time with excellent content! Relatable."

"Good balance between instruction and hands on."

"Provided great insight into the way to get to the bottom of a request for a project."

"Fabricio is a very engaging speaker. I found the material to be extremely helpful and thought provoking."
Business Agility Fast Track
The Dynamically Adaptable Business
HALF-DAY WORKSHOP
Business Agility depends more on the type of architecture your solution is built than on your solution development methodology. The fast track to business agility teaches how to explore your requirements management process to build dynamically adaptable solutions.
Is your business looking for agility? To remain relevant and competitive in the actual business environment, companies must be able to sense changes and adapt their behavior quickly.
To achieve that goal I see 2 different main strategies:
Small autonomous multidisciplinary teams, capable of fast solution development;
Configurable business solutions, able to change without new development.
The second strategy is certainly faster, cheaper, and less risky. Unfortunately, not always available. A smart company should use both strategies but keep the focus of the teams on strategy 1 to deliver the solutions expected in strategy 2.
The management of business knowledge is the core competency one needs to create configurable business solutions and to keep dev teams aligned. And this competency is not far from Business Requirements Management.
This workshop will show you how to get there.
Learning objectives
The key techniques to map business knowledge.
How you can increase business agility by configuring processes and rules.
How to create business knowledge bases during a requirement management process.
Keywords
#Agile #BestPractices #BusinessAnalysis #ChangeManagement #BusinessAgility #Methodologies #Requirements #RequirementsManagement #BusinessManagement
"Very enlightening presenting in a highly creative way.  By far my favorite presentation."

"Amazing energy and great presentation!"

"This session was great and used a unique method to display the difference between product and project"

"A great speaker to energize the audience on the last day. Great presentation – engaging and illustrative."

"ABSOLUTELY FANTASTIC!!!  So so SO glad that I went to this one. Fabricio was engaging and entertaining and providing so many easy to digest ideas/suggestions/tips. Made the session so fun! Would love to attend more sessions from Fabricio!"

"The most fun filled session of all."
The Agile Requirement
A new definition
PRESENTATION
During this presentation, the presenter uses interactive activities, pools, video, and live music with a Brazilian folkloric guitar to demonstrate how the Agile Requirement can be implemented to bring real Business Agility.
What comes to mind when you listen to the term "Agile Requirement"?
Usually, it is not referring exactly to a concrete requirement, but rather to some requirements engineering-related process. The title Agile Requirement usually refers to techniques such as User Stories, Story Mapping, Acceptance Criteria, BDD, Prototyping, Backlog Management, Kanban… focused on software development projects using an agile approach.
The usual definition could be: "The development team must be able to change a requirement during the solution development project to maximize the value delivered by the project".
The new definition proposed in this presentation is more comprehensive, applicable to both agile and cascade approaches, and oriented to business agility. And it is not about processes, but it is a real concrete requirement that must be added to all digital transformation initiatives.
Learning objectives
Ignite business agility with dynamically configurable solutions
Use the agile requirement to stimulate your team's creativity
Model business as configurable processes and rules
Keywords
#Agile #BestPractices #BusinessAnalysis #ChangeManagement #BusinessAgility #Methodologies #Requirements #Strategy #BusinessManagement
"Well done! Made a difficult concept easy to understand and thank you for the singing!"

"Fabricio is delightful and when he started singing and then tying back the song to agility, it hit home for me about what agility truly means. He was wonderful using some great analogies to drive home his points. Very well done!"

"I really enjoyed the passion and up beat energy he had presenting. You can tell he enjoys what he does. Wish more presenters were like him."

"Absolutely fantastic! In addition to presenting great concepts, there was just so much fun and creativity. I wish all presentations could be this much fun!"

"Excellent presentation. Great topic and speaker, plus all the bonuses… entertainment (singing), videos, humour, etc. My favourite session so far!!!"
With vs Without
a Fun and Easy Way to Understand Business Agility
PRESENTATION
Understand what agility really means by comparing businesses WITH and WITHOUT agility. Where does your company fit in?
Do you know what business agility means?
A revolution is underway and businesses that don't adapt will soon become obsolete. Driven by the new opportunities offered by Information Technology, organizations are reinventing themselves, occupying new spaces, and leaving old competitors out of the market. Those that take longer to innovate will soon become obsolete.
The software development area has strongly collaborated with innovative practices and ways of working within a movement based on the Manifesto for Agile Software Development (2001, agilemanifesto.org). The values ​​presented in this manifesto revolutionized the way of thinking and making software, and the agile movement spread beyond the borders of IT and software development projects. But techniques and methods focused on projects for software development are not enough to give agility to an entire organization. The business cannot depend on software projects to innovate and transform itself. The business needs to be adaptable.
Another group of experts not focused on software, but on processes, rules, and business architecture, prepared the Business Agility Manifesto (2017, busagilitymanifesto.org, Burlton, Ross and Zachman) presenting the basic principles to be followed by organizations that want to stay relevant in the knowledge age.
With a multimedia content of approximately 50 minutes, Fabrício Laguna exemplifies each of these principles in a fun, didactic, and easy-to-understand way, comparing how companies WITH and WITHOUT agility behave.
Learning objectives
Understand what agility really means and the difference between being agile in projects and in business.
Identify how businesses WITH and WITHOUT agility behave and where your business fits.
Guide analysts and consultants to design business solutions that are aligned with the organization's strategy and adaptable.
Keywords
#Agile #ChangeManagement #BusinessAgility #Methodologies #Strategy #BusinessManagement #KnowledgeManagement #SingleSourceOfTruth
"Great examples with games"

"Great interactive funny and got the concepts across."

"Fabricio methods were both lighthearted and spot on.  He entertained and educated.  Best of the conference I saw."
Connecting the Scrum Concepts on a single page
the most popular Agile Framework made easy and funny
GAME-BASED PRESENTATION
This presentation uses interactive tools and quizzes to engage participants in a battle for knowledge.
The Scrum Guide on a Single Page was developed by Fabrício Laguna using the Concept Modeling technique as a quick reference to the main concepts of the guide.
During this interactive session, you will be on a dynamic game board for learning Scrum.
The participants must fastly answer questions based on the board that uses colored cards and connects different subjects using verbs to create sentences that will help them to understand and memorize the essence of Scrum.
Learning objectives
Understand that Scrum is a Framework and what that means.
Validate your concepts about Scrum and learn what you may have missed.
Have some fun while doing all that.
Keywords
#Scrum #Framework #Methodologies #Agile #Game #ProductDevelopment
"Outstanding presentation."

"It was great fun and suspensful."

"Great way to bring up the energy after lunch!"

"This was a fun way to solidify our knowledge of Scrum. THANKS!"

"With Fabricio, it's always entertaining and informative!"
Star Wars Episode IV – A new hope
Business Analysis Core Concepts applied
FLASH WORKSHOP
The BA core concepts are applied to a practical case study in a very interactive session based on the Star Wars movie.
The Business Analysis Core Concepts Model (BACCM) is presented in a hands-on workshop.
The presenter uses a specific moment from the Star Wars series to invite everyone to fill in a canvas that goes through each of the 6 BA core concepts in a fun and illustrative way from the perspective of different characters from the saga.
Learning objectives
Differentiate the six Business Analysis core concepts;
Facilitate the understanding of an initiative using the BACCM framework;
Understand that any analysis depends on the point of view, the moment, and the context in which it occurs.
Keywords
#BACCM #BestPractices #BusinessAnalysis #Techniques #Workshop
"It's a fun session 😉 Pick up more comments from the attendees."

"A fun approach to stakeholder analysis."

"I actually love how the BACCM that is usually just a diagram was so well developed through a fun story."

"I loved that it was fast-moving, didn't bog down, but I learned the good, basic concepts."